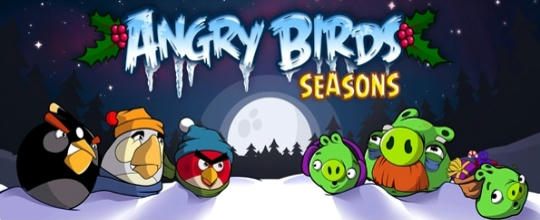 We all know by now that Angry Birds is a huge success in mobile gaming as it has completely hypnotized players with its overall simplicity. Thanks to those wily and creative pigs, and masonry-destroying birds (honestly, who knew pigs were capable of building all of those levels?!), Angry Birds has sold millions as well as producing $1 million a month in ad revenue alone. Still, we know there are still a handful of you out there that haven't yet dipped your cup into the Angry Birds Kool-Aid, so we're here to be your digital video game crack dealer. We're giving away free Angry Birds Seasons game codes for iPhone and iPad!
We have 4 codes for Angry Birds Seasons on both the iPhone and iPad. If you want to enter for your chance to win one, here are the rules:
Leave a comment below:
Start off your comment with which version of Angry Birds Seasons you're gunning for (iPad or iPhone). Tell us why you wish you had a real Angry Bird around. Here's an example just to make sure you get it right: "iPhone – There was a time where there was a wild pig running around my backyard. This would have been a perfect moment to have an Angry Bird with me to take him out!"
Bonus Entry #1:
We're allowing you guys to have a bonus entry into the giveaway through Twitter and Facebook. All you needs to do is retweet the following message and we'll give you a bonus entry: RT @IntoMobile I'm entering to win a copy of Angry Birds Seasons, you should too! – http://bit.ly/fqVH2x
Bonus Entry #2:
Like us on Facebook and leave a comment on our Facebook wall, and you'll get yet another chance to win!
This giveaway will end on 12/12/2010 at 11:59pm PST. The winners will be chosen at random through their valid entry and will be notified by email on 12/13/2010.